The foundation conducts research study of subtropical plants, skill development, contract research, functional improvement of parks, and various other activities.
In particular, the foundation conducts the preservation and cultivation of orchids and other rare species of plants and deal with environmental issues such as environment greening. It also researches the utilization of native plants, conducts fertility management of useful plants such as tropical fruits, and researches ways of massive production by tissue culture.
Research study on preservation and utilization of Okinawa's native plants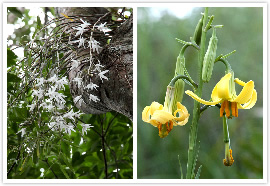 The foundation conducts research of natural habitats, establishes preservation activities and cultivation methods, and develops production skills.
Research study of introduction and fertility management of orchid plants, tropical fruits and flowering trees and useful plants such as foliage plants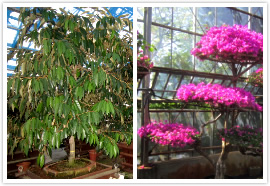 The foundation promotes the introduction of useful plants, as well as conducts the development of fertility management of tropical fruits, e.g. durian, mangosteen and mango, and tropical flowering trees, e.g. bougainvillea and golden shower in freight containers.
Research study of environment greening such as wall greening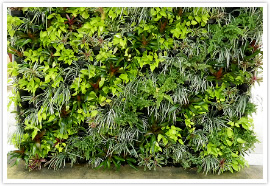 The foundation selects plants for wall and roof greening suited for the growing environment in Okinawa by conducting research of the growth of climbing plants on wall surfaces (grids) and the cultivation of plants on rooftops.
Research study on the development of utilizing grass, soil cover, and flowering plants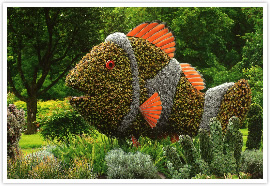 Decoration technology utilizing flowering plants is changing from planar objects to three-dimensional objects and from open fields to wall surfaces and roofs.
Research study on the development of utilizing Okinawa's native plants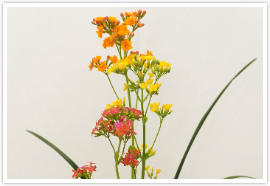 The foundation conducts research studies on the production of new cultivars using endangered plants grown naturally in Okinawa such as Kalanchoe and Begonia fenisis as the hybrid parents.
Research study of herbs and Okinawan vegetables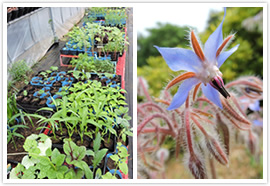 The foundation collects and introduces Okinawan vegetables, medicinal plants, and herbs that can be grown in subtropical regions, and establishes cultural tests and cultivation techniques of those plants as well as promotes the popularization of promising unintroduced species in the region.
Research study on massive production of orchid and foliage plants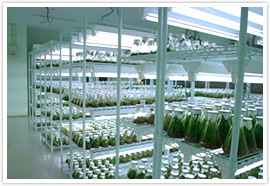 The foundation is developing a bacteria-free production of wild orchids that grow naturally in Okinawa, as well as the massive production by tissue culture of orchid plants such as Vappodes phalaenopsis and Vandas and foliage plants such as Dracaena and Cordyline