Research on marine organisms
Research staff profile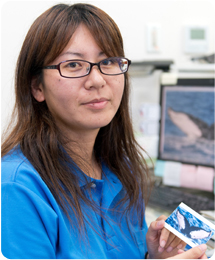 Haruna Okabe
(Research Scientist)
Area of expertise
Cetacean Ecology
Research content
Sighting survey of cetaceans, study on stranded cetaceans
Management of zoological collection
Background
2002 - Graduated from Fukuoka Communication Arts College
2004-2006 - Worked as a volunteer staff at the Ogasawara Marine Center
2006 - Current post at the Ocean Exposition Commemorative Park Management Foundation (present Okinawa Churashima Foundation)
2014 - Current post at the Okinawa Churashima Foundation Research Center
Essays, Reports
Isao Kawazu, Haruna Okabe. 2014. Mating Season of Loggerhead Turtles in the Western Waters of Okinawa Island, Umigame News Letter 100:2-7.
Nakashima T, Kobayashi N, Yamada H, Katsumata T, Yoshida R, Kato H, Okabe H, Kawazu I, Yanase Y, Omine M, Terada M, Sugioka H, Kyo M. 2015. Repellence Effect of the New Sound for Underwater Speaker of Hydrofoil. TransNav, the International Journal on Marine Navigation and Safety of Sea Transportation 9: 207–211.
Kobayashi N, Okabe H, Kawazu I, Higashi N, Miyahara H, Kato H, Uchida S. 2016. Peak Mating and Breeding Period of the Humpback Whale (Megaptera novaeangliae) in Okinawa Island, Japan. Open Journal of Animal Sciences, 6: 169-179.
Kobayashi N, Okabe H, Kawazu I, Higashi N, Miyahara H, Kato H, Uchida S. 2016. Spatial distribution and habitat use patterns of humpback whales in Okinawa, Japan. Mammal Study 41(4): 207–214.
Funasaka N, Okabe H, Oki K, Tokutake K, Kawazu I, & Yoshioka M. 2016. The occurrence and individual identification study of Indo-Pacific bottlenose dolphins Tursiops aduncus in the waters around Amami Oshima Island, southern Japan: A preliminary report. Mammal Study 41(3): 163-169.
Kobayashi N, Okabe H, Kawazu I, Higashi N, Kato K, Miyahara H, Nakamura G, Kato H and Uchida S. 2017. Distribution and Local Movement of Humpback Whales in Okinawan Waters Depend on Sex and Reproductive Status. ZOOLOGICAL SCIENCE 34: 58–63.
Kawazu I, Okabe H, and Kobayashi N. 2017. Direct Observation of Mating Behavior Involving One Female and Two Male Loggerhead Turtles in the Wild. Current Herpetology 36 (1): 69-72.
Titova O. V, Filatova O. A, Fedutin I. D, Ovsyanikova E. N, Okabe H, Kobayashi N, Acebes J. M. V, Burdin A. M and Hoyt E. 2018. Photo-identification matches of humpback whales (Megaptera novaeangliae) from feeding areas in Russian Far East seas and breeding grounds in the North Pacific. Mar Mam Sci, 34: 100–112.
Holding of lecture meetings
Affiliated academic society
The Mammal Society of Japan
Copyright (c) 2015 Okinawa Churashima Foundation. All right reserved.