Efforts for the promotion of public awareness
Research staff profile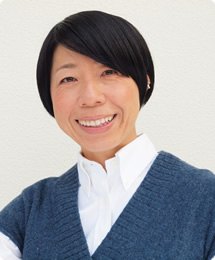 Hiromi Yamamoto
Area of expertise
Cora Reef Ecology
Research content
The Dynamics of the Reef-building Coral Community and its Recovery from Disturbance
The Plasticity of the Skeletal Morphology and Reproduction Cycle of Acropora Coral Under long captivity
Background
1992 - Bachelor of Law and Letters in Arts University of the Ryukyus
1996 - Bachelor of Science in Oceanography University of the Ryukyus
2000 - Master of Science in Oceanography University of the Ryukyus
2001 - Served at the Ocean Exposition Commemorative Park Management Foundation (Okinawa Churaumi Aquarium)
2011 - Current post at the Okinawa Churashima Foundation Research Center
Awards received
2007 - Poster Award at the Japanese Coral Reef Society 10th Meeting
Essays, Reports
Masanori Nonaka and Hiromi Yamamoto 2003
Reseeding the reefs of Okinawa with the larvae of Captive-bred corals.
Coral reefs 22:34
Hiromi Yamamoto et al. 2006
Education and conservation of coral reefs at Okinawa Churaumi Aquarium. Proceedings of 10th International coral reef Symposium 1713-1716
A. Baird, H., Hiromi Yamamoto et al. 2006
Temperature tolerance of symbiotic and non-symbiotic coral larvae.
Proceedings of 10th International Coral Reefs Symposium 38-42
Mamiko Hirose, Hiromi Yamamoto et al. 2008
Metamorphosis and acquisition of symbiotic algae in planula larvae and primary polyps of Acropora spp. Coral Reefs 27:2 247-254
Irina M Yakovleva, Andrew H Baird, Hiromi Hannah Yamamoto, Ranjeet Bhagooli, Masanori Nonaka, Michio Hidaka 2009  Algal symbionts increase oxidative damage and death in coral larvae at high temperatures. Marine Ecology Progress series.
Nami Okubo, Hiromi Hannah Yamamoto Fumio Nakaya, Ken Okaji. 2010
Reproduction in cultured versus wild coral colonies: Fertilization, Larval Oxygen Consumption, and survival. Biological Bullitein.
Patrick C. Cabaitan, Hiromi Yamamoto, Kazuhiko Sakai 2012
Recovery of corals a decade after a thermal stress event at Motobu, Okinawa, Japan: spatial variability in winners and losers
Galaxea, Journal of Coral Reef Studies Vol. 14 No. 1 p. 27-40
Naoko Isomura, Yuichiro Baba, Shunsuke Nagata, Masanori Nonaka & Hiromi Hannah Yamamoto 2013
The relationship between genetic similarity and reproductive success in the branching coral Acropora intermedia.  Marine Biology Research Volume 9, Issue 2, 2013 181-188
Hiromi Yamamoto, Peter Castro, Tomoyuki Komai. 2013. Records of Species of Trapezia (Crustacea: Decapoda: Brachyura: Trapeziidae) Associated With Pocilloporid Corals Attached to Floating Fish Rafts (Payao) Off Okinawa, Ryukyu Islands. The Biological Magazine Okinawa 51: 83-91
Atsushi HIGA , Yoshito IWANAGA , Kousuke IWAHASHI ,Hiromi YAMAMOTO and Shintoku KAMURA 2015. Vegetation and growth situations in nationally designated natural monument "Shiokawa salty spring" (= Sugā), Motobu, Okinawajima. The Biological Magazine Okinawa 53:65-76
Kiyotaka Masaki, Naoko Isomura,,Hiromi Yamamoto 2015. X-Ray diffraction measurement of marine-derived calcium carbonate. Bulletin of Okinawa national College of Technology No.9 p1-12.
Affiliated academic society
Japanese Coral Reef Society
The Biological Society of Okinawa
Japanese Society of Phycology
Japanese Society of Taxonomy, etc.
Copyright (c) 2015 Okinawa Churashima Foundation. All right reserved.