Research on marine organisms
Research staff profile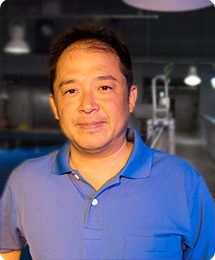 Makio Yanagisawa
| | |
| --- | --- |
| Area of expertise | The anesthesia od the aquatic animal, Clinical veterinary Medicine of the small cetaceans |
| Research content | The anesthesia of the small cetacean, The pharmacokinetics of the aquatic animal, The nutrition of the aquatic animal |
Background
1999 - Bachelor of Agriculture in Veterinary Medicine Rakuno Gakuen University
1999- SANKYO Company
2001 - Okinawa Expo Aquarium
2002 - Current post at the Ocean Exposition Commemorative Park Management Foundation (Okinawa Churaumi Aquarium)
2016 - Additional post at the Research Center
Essays, Reports
Takuya Itou、Koie、Segawa、Kato、Yanagisawa、Ueda、Kuwano、Suzuki、Moritomo、Sakai(2010) Bone marrow biopsy from the flipper of a dolphin The Veterinary Journal 185:216-217
Takuya Itou、Koie、Segawa、Kato、Yanagisawa、Ueda、Kuwano、Suzuki、Moritomo、Sakai(2010) A new approach to bone biopsy in cetaceans The Veterinary Journal 185:101-102
Suzuki K, Noda J, Yanagisawa M, Kawazu I, Sera K, Fukui D, Asakawa M, Yokota H. (2012) Particle-induced X-ray emission analysis of elements in plasma from wild and captive sea turtles (Eretmochelys imbricate, Chelonia mydas and Caretta caretta) in Okinawa, Japan. Biol Trace Elem Res. 148:302-308.
Kazuyuki SUZUKI, Jun NODA, Makio YANAGISAWA, Isao KAWAZU, Kouichiro SERA, Daisuke FUKUI, Mitsuhiko ASAKAWA and Hiroshi YOKOTA. Relationships between Curved Carapace Sizes and Plasma Major and Trace Element Status in Captive Hawksbill Sea Turtles (Eretmochelys imbricata). J. Vet. Med. Sci. 74(12): 1677–1680, 2012
Takao Segawa, Hazumu Amatsuji , Kento Suzuki, Miwa Suzuki , Makio Yanagisawa, Takuya Itou, Takeo Sakai, Teruyuki Nakanishi Molecular characterization and validation of commercially available methods for haptoglobin measurement in bottlenose dolphin. Resaults in Immunology.3. 57-63, 2013
Kassab M., Yanai T., Ito K., Sakai H., Mesegi T., Yanagisawa M. Morphology and Lectin histochemistry of the testes of brown-banded bamboo shark (Chiloscyllium punctatum) . J. Vet. Anat. 2(1):49-66, 2009.
Konomi Ito, Sawsan Ghattas, Makio Yanagisawa, Senzo Uchida, Hiroki Sakai1 and Tokuma Yanai. Assessment of Cell Kinetics in The Tissues of Brownbanded Bamboosharks (Chiloscyllium Punctatum) by using Bromodeoxyuridine (Brdu) and Anti-Brdu Monoclonal Antibody. Journal of American Science 6(5):293-299, 2010.
Jun Tamura, Makio Yanagisawa, Yusuke Endo, Keiichi Ueda, Haruka Koga, Yasuharu Izumisawa, and Kazuto Yamashita.
Anesthetic Management of an Indo-Pacific Bottlenose dolphin (Tursiops aduncus) Requiring Surgical debridement of a Tail Abscess. Journal of Zoo and Wildlife Medicine 48(1):200-203, 2017
Miwa Suzukia, Mika Tomoshige, Miki Ito, Sotaro Koga, Makio Yanagisawa, Takashi Bungo, Yuya Makiguchi, Increase in serum noradrenaline concentration by short dives with bradycardia in Indo-Pacific bottlenose dolphin Tursiops aduncus. General and Comparative Endocrinology. 248:1-4, 2017.
Tomita T, Toma H, Murakumo K, Yanagisawa M, Yano N, Oka S, Miyamoto K, Hanahara N, Sato K. 2018. Captive Birth of Tiger Shark (Galeocerdo cuvier) Revealed the Shift of Respiratory Mode Across Parturition. Copeia, in press.
Awards received
2008- The 14th Annual meeting of Japanese Society of Zoo and Wildlife Medicine Best Presentation Awards
Copyright (c) 2015 Okinawa Churashima Foundation. All right reserved.