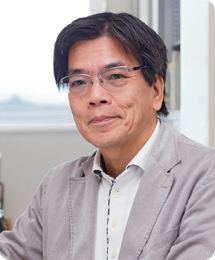 Welcome to the Research Center website
The Research Center was established in the head office of the foundation in December 2008. Under the directions of consultants and research advisers, nearly 30 experts are working actively on research studies, the promotion of public awareness, social contributions, and regional cooperative activities, all of which take place in the audiovisual room, the field, and in the research facility with rooms for experiment, cultivation, examination and sampling, based on the foundation's midterm business plan. Please refer to the pages of each section.
The Okinawa Churashima Foundation possesses an abundant accumulation of achievements and expertise in regards to research study, skill development, and dissemination of knowledge regarding subtropical animals and plants, mainly through managing national parks in the past.
In recent years, various issues have been raised, e.g. dealing with various environmental issues such as global warming and the crisis of the ecosystem, promoting tourism and industries utilizing the natural environment and historical scenery of Okinawa, cooperating with the community, and managing parks to accommodate diversified needs of park users.
The Okinawa Churashima Foundation is committed to dealing with these issues by gathering the knowledge and capabilities that we have cultivated thus far. Therefore, with the Research Center as the base, the foundation, from a long-term point of view, will enhance and advance the research study and promotion of matters such as environmental issues with high social needs, industrial development, and improvement of park functions to further contribute to society.
Full Name
Affiliation
Position
Area of expertise
Naoki Kamezaki
Okayama University of Science, Faculty of Biosphere-Geosphere Science, Department of Biosphere-Geosphere Science
Kobe Suma Aqualife Park
Professor
Academic Research Control
Marine biology centering on sea turtles
Kazuhiro Nakaya
Hokkaido University
Emeritus Professor
Systematic taxonomy and functional morphology of cartilaginous fish and sharks
Hidehiro Kato
The Graduate School of Marine Science and Technology
Professor
Cetacean Ecology
Hajime Koshimizu
Meiji University
Professor
Bioenvironmental engineering, Greening environmental engineering
Yasutsugu Yokohama
Former Shizugawa Nature Center (Minami Sanriku Town Natural Environment-Friendly Center)
Pressed Seaweed Craft Association
Director
Sea weeds
Tetsuo Koyama
Kochi Prefectural Makino Memorial Foundation
The Kochi Prefectural Makino Botanical Garden
B.P.Bishop Museum, Honolulu, U.S.A.
Director
Emeritus Curator, Adviser
Associate
Plant science and resources, systematic botany, botanical garden science
Masahiro Mii
Chiba University of Horticulture Studies
Emeritus Professor
Breeding, horticultural plant, gene recombination, tissue culture
Senzo Uchida
Okinawa Churaumi Aquarium
Emeritus Curator
Captive research on aquatic mammals and elasmobranchs
Tetsuo Yoshino
Former University of the Ryukyus, Faculty of Science
Associate Professor
Fish taxonomy
Marine biogeography
Koji Karasawa
Former Takamori Orchid Garden
General Manager
Cytogenetics (orchid plants)
Takayuki Ikeda
University of the Ryukyus
Specified Nonprofit Corporation Society that Love the Landscape of Okinawa Chairman
Emeritus Professor
Chief Director
City and regional planning, Landscape and scenery development
Akira Goto
Nanzan University
Professor
Cultural Anthropology Ethnoarchaeology
Kurayoshi Takara
University of Ryukyus
Emeritus Professor
History of Ryukyu and research of reconstruction of Shuri castle
Takaaki Ishii
National Institute of Technology, Tokuyama College
Limited liability company
Research associate
Representative partner
Pomology
Soil microbiology
Chromatography
Yaeko Nishio
Finishing School Nishio Gakuin
Principal
Ryukyu cuisine, Okinawan food